Endocrinology
Staff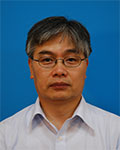 Prof. NAKAMURA
Professor
Assistant Professor
Current Research Projects
Crystal structure analysis and the functional conversion of a family of animal lectin, galectin.
Study on the association of galectin family and colon cancer.
Development of the serum-free medium.
Recent Publications
Crystal structure of a Xenopus laevis skin proto-type galectin, close to but distinct from galectin-1.
Nonaka Y, et al. Glycobiology 153, 463-471 (2015).
Significance of sugar chain recognition by galectins and its involvement in disease-associated glycosylation.
Arikawa T, et al. Congenit. Anom. 54, 77-81 (2014).
Self-association of the galectin-9 C-terminal domain via the opposite surface of the sugar-binding site.
Nonaka Y, et al. J. Biochem. 153, 463-471 (2013).
Contact Information
E-mail: