Forensic Medicine
Staff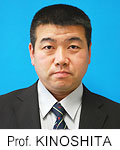 Professor
Lecturer

Assistant Professor
Current Research Projects
Physiological and molecular biological studies on ethanol and acetaldehyde.
Toxicological studies on volatile and gaseous substances.
Application of X-ray fluorescence spectroscopy in forensic practice.
Patho-physiological evaluation of poisoning cases.
Recent Publications
Comparison of histological findings and the results of energy-dispersive X-ray spectrometry analysis in experimental electrical injury. Tanaka N, et al. Leg.Med. 31, 20-23 (2018).
Application of energy-dispersive X-ray fluorescence spectrometry (EDX) in forensics – titanium, silicon and magnesium in the stomach contents as good indicators for ingestion of pharmaceutical tablets. Tanaka N, et al. Rom.J.Leg.Med. 25, 89-91 (2017).
Ethanol and acetaldehyde differentially alter extracellular dopamine and serotonin in Aldh2-knockout mouse dorsal striatum: A reverse microdialysis study. Jamal M, et al. Neurotoxicology. 52, 204-209 (2016).
Contact Information
E-mail: