Histology and Cell Biology
Staff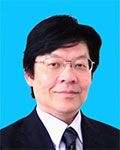 Prof. ARAKI
Professor
Lecturer
Assistant Professor
Current Research Projects
Studies on spatiotemporal regulation of phagocytosis and macropinocytosis by small GTPases and phosphoinositides.
Optogenetics (photo-manipulation) of G-protein molecular switches and signaling in live cells.
Representative Publications
Small GTPases and phosphoinositides in the regulatory mechanisms of macropinosome formation and maturation.
Egami Y, et al. Front. Physiol. 5, 374 (2014).
Dissecting the roles of Rac1 activation and deactivation in macropinocytosis using photo-manipulation.
Fujii M, et al. Sci. Rep. 3, 2385 (2013).
Rab35 regulates phagosome formation through recruitment of ACAP2 in macrophages during FcγR-mediated phagocytosis.
Egami Y, et al. J. Cell Sci. 124, 3557-3567 (2011).
Contact Information
E-mail: