Pharmacology
Staff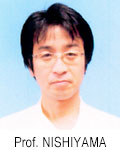 Professor
Associate Professor
Assistant Professor
Current Research Projects
To clarify the independent regulatory mechanisms of tissue renin-angiotensin-
aldosterone system (RAAS) and its contribution to pathophysiology of various diseases.
To clarify the pathophysiological mechanisms of life-style disease including hypertension, diabetes, kidney disease, heart failure, cancer.
To identify the involvements of sympathetic nervous system s in the development of hypertension or cardiovascular and renal diseases.
To elucidate the regulatory mechanisms of systemic and renal hemodynamics.
To determine the role of cellular senescence in organ diseases.
To visualize what is going on in the kidney and other organs of live animals.
iPS cell projects.
Recent Publications
Human pluripotent stem cell-derived erythropoietin-producing cells ameliorate renal anemia in mice. Hitomi H,et al. Sci Transl. 9(409). pii: eaaj2300 (2017).
High salt intake reprioritizes osmolyte and energy metabolism for body fluid conservation.
Kitada K, et al. J. Clin. Invest. 127, 1944-1959 (2017).
Reduction of tubular flow rate as a mechanism of oliguria in the early phase of endotoxemia revealed by intravital imaging.
Nakano D, et al. J. Am. Soc. Nephrol. 26, 3035-3044 (2015).
Contact Information
E-mail: