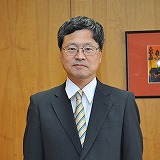 Natsuo UEDA,
Faculty of Medicine Dean
Located in a section of the Sanuki Plain adjoining the city of Takamatsu in Kagawa Prefecture, the Kagawa University Faculty of Medicine comprises three schools and departments: the School of Medicine, the School of Nursing, and the Department of Clinical Psychology. The Faculty of Medicine's history stretches back to the founding of Kagawa Medical School in October 1978. The School of Nursing was established in April 1996. In October 2003, Kagawa Medical School was integrated with the former Kagawa University to form the Kagawa University Faculty of Medicine. Then in April 2018, the Faculty of Medicine became the first university faculty in Japan to create a department of clinical psychology. The Faculty uses pioneering curriculum that provides a basic grounding in both psychology and medicine to educate students, aiming to prepare them for careers as psychological helping professionals armed with a knowledge of medicine coupled with psychological helping skills.
The Faculty of Medicine's educational philosophy consists of the following three tenets.
1.Aiming to conduct world-class education and research in medicine, nursing, and clinical psychology.
2.Aiming to develop highly humanistic medical practitioners and psychological helping professionals, as well as researchers in the fields of medicine, nursing, and clinical psychology.
3.Contributing to progress in medicine, nursing, and clinical psychology, to the welfare of mankind, and to better support for local healthcare and psychological help.

The Faculty of Medicine has concluded exchange agreements with medical faculties and colleges in a number of countries, and actively engages in international exchange. As part of the role it plays in developing healthcare workers and medicine and nursing researchers who possess a global outlook, the Faculty of Medicine sends its students to study at overseas medical schools and nursing schools (including at Universiti Brunei Darussalam in Brunei; Chiang Mai University; Newcastle University; the University of Glasgow; St George's, University of London; and Hebei Medical University), and takes in students from schools abroad.
The Faculty of Medicine also collaborates with Tokushima Bunri University and Kagawa Prefectural College of Health Sciences, which also have healthcare-related faculties in Kagawa Prefecture, as a member of the Three University Collaboration Committee it has formed with these two schools. The committee provides interprofessional education opportunities based on promoting exchange between students. Among its activities are conducting joint events to welcome new students, coordinating school events, and providing lectures using an inter-university remote simultaneous streaming system. It also organizes public academic exchange events every year attended by the faculty of the schools, and engages in joint research that involves exchange among the teaching staff. Exchange between the universities has become even more active in 2018 with the addition of teaching faculty and students from the newly-established Department of Clinical Psychology.
On the research front, rare sugar is a current area of focus. While there are some monosaccharides found in abundance in nature (there are seven, including glucose and fructose), some monosaccharides exist only in trace amounts in nature. There are roughly 50 of these "rare sugars," which include D-psicose (D-allulose), D-allose, D-tagatose, and xylitol. Led by the International Institute of Rare Sugar Research and Education at the center, Kagawa University engages in rare sugar research with support from organizations that include the national government, Kagawa Prefecture, Kagawa University, and the city of Miki. The Faculty of Medicine has discovered that D-psicose helps control blood sugar spikes and combat obesity while D-allose has antioxidant and anticancer effects, and is looking to develop these findings into clinical applications. The Faculty of Medicine is a global leader in rare sugar research, and in addition to conducting international joint research, it holds regular Rare Sugar Congress symposiums in the city of Takamatsu.
Kagawa Prefecture has a robust remote healthcare network, at the center of which is the Kagawa Remote Medical Care Network (K-MIX). Established in FY 2003, this remote medical care network comprises individuals from Kagawa Prefecture, Kagawa Medical Association, and Kagawa University. Starting in FY 2013, electronic health records at general hospitals (those whose patients have given permission) have been viewable by K-MIX member organizations. Through this system, known as the Kagawa Medical Care Information Network (K-MIX+), members of either network can see any amount of information about patients at multiple medical care providers, allowing for high-level coordination and higher quality medical care. The Faculty of Medicine is also actively involved in providing remote medical care using IT through efforts such as using teleconferencing systems to provide health consultations for Japanese citizens living abroad.
These are among the many ways the Faculty of Medicine is making a difference as a key medical care provider in the region, developing highly humanistic medical care professionals equipped with a global outlook while working to improve healthcare, promote good health, and contribute to social welfare in the 21st century.
Natsuo Ueda, Kagawa University Faculty of Medicine