Dean's Message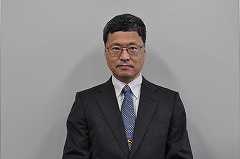 Dean Natsuo UEDA
The Faculty of Medicine at Kagawa University and its affiliated hospital are located on the Sanuki plain on Shikoku-island. The faculty was established in 1978 as Kagawa Medical University and the School of Nursing was later founded in 1996. In October 2003, Kagawa Medical University united with the former Kagawa University restarted and became as the new Kagawa University.
The educational principles of the Faculty of Medicine emphasize the following three visions:
(1) To establish world-class education and research in medicine and nursing;
(2) To train medical professionals as well as medical and nursing researchers with a deep sense of compassion;
(3) To contribute to the promotion of medicine and healthcare in local areas.
A consortium of three universities of medicine and healthcare in Kagawa Prefecture (Tokushima Bunri University; the Faculty of Medicine, Kagawa University; and Kagawa Prefectural University of Health Sciences) has been formed leading to the development of medicine and healthcare in local areas.
In addition, we have initiated international exchange programs with foreign universities such as Universiti Brunei Darussalam (Brunei), Chiang Mai University (Thailand), and the University of London (England).
Among the various research activities at the Faculty of Medicine, the research on rare sugars, which are rarely existing monosaccharides in nature, is notable. The production of rare sugars has been developed by researchers at the Faculty of Agriculture of Kagawa University, and novel functions have been discovered by both medical and agricultural faculties under financial aid from the National Government and Kagawa Prefecture. D-psicose (D-allulose) can lower the blood sugar level and prevent obesity, and D-allose has an anti-oxidative effect and an anti-proliferative effect on cancer cells. These studies have been recognized as leading the world-wide rare sugar research. An international symposium on rare sugars has been periodically held in Takamatsu and continued since 2002.
The Faculty of Medicine at Kagawa University has also founded Kagawa Medical Internet eXchange (K-MIX) in collaboration with Kagawa Prefecture and the Kagawa Medical Association. We are making efforts to enrich medicine and healthcare in local areas through this network on the basis of K-MIX.
Finally, our hospital is comprised of advanced and outstanding centers such as the Lifesaving-Emergency Center, Perinatal Mother-and-Children Center, and the Department of Medical Informatics, which is involved in the K-MIX network system. Our hospital always endeavors to offer sufficient medical and nursing services to patients and their families in safe and high-quality environments. We will play an important role as the center of medical services in Kagawa and contribute to training doctors and nurses who have global view points and are full of compassion. We will continue to do our best to contribute to medicine, healthcare and welfare of the 21st century.
Dean Natsuo UEDA